Health guidance of meal prep for back to school or work
For fitness enthusiasts, meal prep is the easiest and most familiar of all. This not only ensures eating healthily but also can make full use of the ingredients, even saving money, which will be much cheaper than food delivery. However, the normal meal prep is to prepare one week's food at once and eat the same during these 7 days, this approach may be a bit boring for most, so today we share an upgraded method that saves time and is very diverse.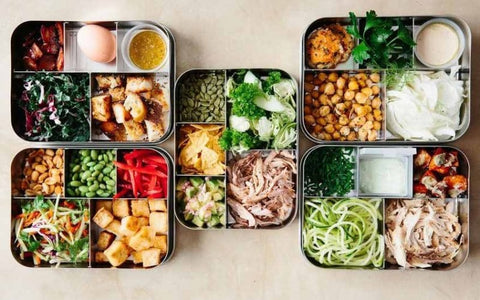 Food selection
Some Ingredient sugesstion
1 staple - Brown rice. If you don't like the texture of brown rice, we can also eat half brown rice with white rice. Brown rice salad is a good choice. Use brown rice as a base, with a variety of vegetables and proteins, and toss it with a sauce.
2 proteins - Chicken breast and tofu. Chicken breast is a good animal-based protein and tofu is a good plant-based protein. Both ingredients are relatively quick to be cooked and can be delicious with salt and black pepper as a base seasoning. Seafood and eggs are also good choices. If we have more time, we can also choose beef, or if are looking to save time, we can buy canned meat, ready-to-eat chicken breasts or marinated beef.
6 vegetables - Green beans, broccoli, sage, lettuce, fenugreek, and cucumber. My match strategy is 1 type of bean or mushroom vegetable, 1 type of green vegetable that needs to be cooked and boiled, and 4 types of green vegetables that can be eaten raw. Beans and mushrooms are mainly for obtaining micronutrients and dietary fiber. The exact choice of vegetables depends on one's daily preferences. But the richer the color of the vegetables, the better. We do not just choose green leafy vegetables so that the meal will also be better looking and nutritious. In addition, small tomatoes, lettuce, radishes, cucumbers, and other types of vegetables can be eaten raw is actually very convenient. And with an oven at home, we can bake all the vegetables and proteins in the oven at once, which is much easier.
Some sauce sugesstion
① Lemon Vinegar :A common combination of lemon juice with apple cider vinegar, this 0-fat salad dressing mixes juice with vinaigrette for a sweet and tart appetizing taste without any fat and is very popular with fitness professionals. 

② Vinaigrette :The most traditional Italian vinaigrette and the ancestor of all salad dressings. People love it because it is light, can invigorate the taste buds, and is the lowest calorie option. When a bowl of properly blended vinaigrette meets salad leaves, even the driest and most astringent vegetables will become delicious.

③.Balsamic Vinaigrette :The most common and versatile. With acetic acid and spices salty, it is suitable for lettuce salad with fruits. Balsamic Vinaigrette with olive oil is also often used as a bread dip. 

④Mayonnaise is a versatile sauce. It is best eaten with potato and fruit salad. The sweetness of the starch and fruit in the potatoes, mixed with the creamy mayonnaise, curbs the greasiness.

⑤Ranch : One of the most popular salad dressings in the U.S. is mayonnaise with sour cream, Parsley, Dill, Chives, garlic, salt, and onion. It has a clove of strong garlic and creamy flavor and is delicious on lettuce, celery sticks, or chicken wings. The calorie content is also amazing. Ranch is good for tougher, less intense lettuces, such as Iceberg and Radicchio.

⑥Thousand Island: There are hundreds of variations of Thousand Island dressing, basically adding garlic, onions, lemon juice, pickles, ketchup, and other acidic seasonings to the mayonnaise, and some will also add mustard or Worcestershire sauce hot sauce for a spicy twist. Ideal for any salad with a seafood element. 

⑦Honey Mustard: Honey mustard always has strange magic that brings out the unexpected and infinite possibilities. Perfect for any salad with meat! Especially meat mixed salads with smoky flavors!

 
There is no absolute right or wrong way to make meal prep, what works well is the best!
Everyone can cook meal prep with various ingredients in the own way we like, so hopefully, this article will give you some inspiration ~